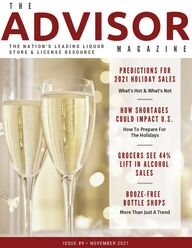 Return to flip book view
The Advisor - Issue #9
Page 1
What's Hot & What's NotHow To Prepare For The HolidaysT H E N A T I O N ' S L E A D I N G L I Q U O RS T O R E & L I C E N S E R E S O U R C EADVISORADVISORI S S U E # 9 • N O V E M B E R 2 0 2 1More Than Just A Trend
Page 2
Editor s Note With the holiday season approaching how will consumer behaviour product shortages and family traditions be impacted Looking For Featured Liquor Store Listings CLICK HERE Page 4 Predictions For 2021 Holiday Sales What s Hot What s Not Page 6 How Shortages Could Impact U S Liquor Store Owners There s nothing like the holidays Going into the second holiday season through the COVID era has some owners wondering how this year will look The next 60 days are the greatest sales numbers liquor stores restaurants and bars will see through the whole year normally For most it s welcomed to put the pandemic struggles in the past For others the ongoing staff shortages mean bracing for the demand that s about to hit Page 9 Booze Free Bottle Shops More Than A Trend Page 11 Grocers Continue To See 44 Lift In Alcohol Sales Regardless of which of the sacred holidays you re celebrating with your family we wish you prosperity and health DAN NEWCOMB Founder CEO Liquor License Advisor THE ADVISOR MAGAZINE 2 www LiquorLicenseAdvisor com Liquor License Advisor has been a trusted resource in the liquor store and license industry since 2002
Page 3
byDan NewcombMany questions come to mind as we head into the busiest salesseason in America. Experts are warning to allow additional time forproducts due to potential shortages as a result of ongoing delays,supply chain issues and labour shortages around variousindustries.With Delta lingering and the length of time we've all been in thepandemic phase predictions are people will be splurging on alcoholthis year. Buying the premium brand of tequila, bourbon and otherspirits along with champagne and other categories to make up forlost time celebrating with loved ones.What will this holiday season look like forretailers?www.LiquorLicenseAdvisor.comSome owners are trying to figureout who will be working duringthe upcoming holiday hours. Withstaff shortages still looming insome parts of the state, ownersmay be the ones behind thecounter to capitalize on theincrease in revenue during thewinter months.If you're one of the owners who'stired. Tired of managing people.Tired of trying to staff the store.Tired of the hours required tokeep the business going. Maybethis is the last straw for you?If you'd like to look at youroptions - we're here for you.Give us a call any time. 781.319.9800For some owners, this maybe their last holiday rush.- Dan Newcomb
Page 4
What's Hot & What's Not by Dan Newcombwww.LiquorLicenseAdvisor.comTHE ADVISOR MAGAZINE  | 4Dan Newcomb is Founder & CEO ofLiquor License Advisor & has been in theindustry for more than 20 years.
Page 5
PREDICTIONS FOR 2021 HOLIDAY SALES Last holiday season was unprecedented as COVID turned many large gatherings into small or virtual ones and the most wonderful time of the year looked much different for most People thought it was safe to assume that by the 2021 holiday season life would have returned to normal and that holiday gatherings and spending would gain momentum Enter Delta variant and renewed restrictions in certain areas and it looks like consumer trends may continue to shift BevAlc recently released their top predictions for 2021 holiday sales which highlights the uncertainty surrounding consumer behaviors during the months leading up to the start of 2022 Let s take a closer look Before delving into what people will be consuming this holiday season it is probably more notable to consider how they will be consuming Celebrations will be mixed this year as BevAlc reports that less than half of people surveyed will celebrate like they did in 2019 while a majority s holidays will resemble those of 2020 Many are hesitant to make big plans in the everchanging climate that has become pandemic life and there will likely be a mix of prepandemic and pandemic celebrations Holidays wouldn t be the holidays without gifts and BevAlc believes that many gifts will continue to be purchased online this season Drizly has reported significant growth in the gift giving sector with share expanding from just 9 in 2019 to 20 by the end of 2020 Retailers must pay attention to this significant shift as it presents a valuable opportunity for them Liz Paquette Drizly s head of consumer insights comments that This is an awesome opportunity to drive valuable sales online as retailers can both acquire new customers online who perhaps wouldn t normally frequent their store as well as be introduced to new local shoppers People will be celebrating in different ways and making a lot of online purchases but what will the drinks of choice be at these celebrations and for online purchases According to BevAlc s report tequila and whiskey will enjoy huge popularity tequila making up 25 of liquor sales on Drizly THE ADVISOR MAGAZINE 5 Lander Otegui is the senior vice president of marketing at Proximo Spirits and remarked that our customers like to enjoy tequila during celebratory moments and that this is especially true during the holidays a time when many are willing to spend more on premium offerings Also making an appearance at holiday celebrations this year will be the newer to the scene Ready to Drink cocktails Drizly has reported an 85 increase in RTD sales as hard seltzer sales decline and RTDs could potentially be seen as a replacement for consumers for some secondary cocktail ingredients according to Paquette If some are limiting their social interactions hitting the liquor store or clicking around Drizly for the whole package might be all the rage this holiday season rather than making multiple trips to multiple stores for cocktail ingredients And finally champagne in the U S Champagne is the wine for celebration according to Xavier Barlier who is the senior vice president of marketing communications at Maisons Marques Domaines USA Many felt cheated out of their 2020 holiday season which is all the more reason to celebrate in 2021 whether at a small socially distant gathering a large reunion or while catching up on Zoom Champagne is also a great holiday and host gift so people will be enjoying and gifting the bubbly The more frustrated we get with COVID and Delta comments Barlier the more we want to compensate I think this year we re going to splurge
Page 6
H HO OW W S SH HO OR RT TA AG GE ES S U U S S L L II Q QU UO OR R C CO OU UL LD D S ST TO OR RE E II M MP PA AC CT T O OW WN NE ER RS S Just when life was seemingly returning to normal the Delta variant of COVID has thrown us yet another curveball causing restaurant owners bar owners and suppliers to face business challenges once again BY MICHELLE HANSFORD Rewind to 2020 during the height of COVID Store shelves were nearly bare with product supply low Remember stockpiling toilet paper Hand soap and hand sanitizer Stocking up became a necessary way of life during the pandemic However liquor store shelves were stocked right when Americans seemed to need them to be the most Fast forward to the last quarter of 2021 and liquor store owners are facing the same supply challenges that other markets have been dealing with for quite some time Cardboard aluminum and glass shortages paired with truck driver shortages and supply chain issues are leading to a supply and demand problem with many of consumers favorite brands of alcohol This problem is not new however Forbes commented in July that THE ADVISOR MAGAZINE 6 The liquor shortage s causes provide a minor class in economics Take a labor shortage involving a lack of truck drivers dock workers and warehouse employees then shake that up with backed up docks slower manufacturing processes and more expensive raw materials and you get a quick lesson in how supply chain economics is having a direct impact on small businesses all over the U S And with the holiday season just ahead demand won t be going anywhere but up A recent NPR article entitled Why Liquor Shortages Caused by the COVID 19 Pandemic Persist in Some States reports that The Pennsylvania state board in charge of consumer liquor sales announced last week article from September that it was limiting customers to two bottles of certain alcoholic beverages per day and that Liquor store customers in North Carolina are encountering out of stock signs instead of their favorite spirits And in Virginia customers are allowed to buy only one bottle of certain liquors per day It is important to note that the government directly owns liquor stores in Pennsylvania and Virginia
Page 7
S H O R T A G E S C O U L D I M P A C T U . S . David Ozgo, the chief economist of theDistilled Spirits Council of the United States,states that "there are problems at nearly everystep of the alcohol beverage supply chain". And demand is still high, as many Americansrelied on alcohol consumption during thepandemic for entertainment purposes and toalleviate stress, and these habits arecontinuing even as we move onward from theheight of COVID. A recent Forbes article, "Here's Why SomePlaces are Rationing Liquor Sales –Indefinitely" also grapples with concernssurrounding the supply and demand issue,commenting that, "It's unclear at this pointhow long the shortages might last". Demand increased in 2020, and even thoughmany on-premise restaurants and bars havereopened, the demand for off-premise alcoholhas not slowed down, leaving store shelvesemptier than before, store owners rationingwhat they sell, and consumers stockpiling forthe holidays and winter months ahead, asuncertainty surrounds the availability of theirfavorite alcoholic beverages. DEMAND NOT SLOWING ANYTIME SOONTHE ADVISOR MAGAZINE  | 7
Page 8
To those who celebrated Diwali Warm Diwali wishes for every happiness to you May the warmth and splendour that are a part of this auspicious occasion fill your life with happiness and bright cheer and bring to you joy and prosperity for the whole year Sincerely The Liquor License Advisor Team THE ADVISOR MAGAZINE 8
Page 9
BOOZE FREE BOTTLE SHOPS Turns out its more than just a trend Some passionate owners are taking no low alcohol beer wine spirits to a whole new level In November 2020 Douglas Watters decided to take a chance and open the first Booze Free bottle shop in New York City and very quickly he learned he was onto something special No flashy launch no grand opening and in his first weekend he quickly realized he wasn t the only one looking for creative options to alcohol In his self published Medium article Why I m Going Full Time on Non Alc the Spirited Away Founder references health fitness sleep mental agility and improved energy as his customers main motivation for drinking alternatives A new term coined sober curious by Ruby Warrington has many exploring the early development of this category While some retail liquor stores are expanding their shelf space to include no and low alcohol options others like Watters are expanding into a larger location after only a year in business Sales Surge Gaining Industry Attention Nielsen reports Non Alcohol sales increased 33 2 in the year and online sales of no and low alcohol increased 315 in the past 12 months It is estimated that the no low category sold 3 1 billion in off premise retail in the latest 52 weeks 10 4 Interesting to note that 78 of nonalcoholic shoppers also purchase alcoholic products as well It s definitely worth considering for store operators to test the category or get feedback from existing customers to consider The market for no low alcoholic beveragees is still relatively small at less than 5 household penetration but is an interesting area to watch as it now represents 3 1B in sales a 3 5 total alcohol market share Kim Cox NielsonIQ SVP of Account Development NielsenIQ Insights at Distilled Spirits Council s 2021 DISCUS Conference
Page 10
THE ADVISOR MAGAZINE  | 10QUESTIONS ABOUT LISTINGS?Call/Text Ben Jerrom Partner & Buyer SpecialistCell: 413.544.4960Liquor License Advisor offers, for your consideration,information regarding the sale of a liquor store borderingMiddlesex & Worcester county that has maintained a"corner store" feel, offering a selection of beer, liquor,and wine to its loyal customer base. Located on a one-way street, the store offers both on-street parking alongthe well-maintained storefront, as well as lot parkingacross the street. Specific opportunities for a newowner to drive revenue include online sales, deliveryservices, and attention to increased lottery sales. Theloading dock located in the rear of the building allowseasy delivery and storage for bulk purchases andinventory, and there is basement storage as well. This store is the perfect opportunity for an owner-operator with great customer service skills to improvethe store's current market position!NEW Listing: Liquor Store withRevenue Opportunities for Sale Middlesex County, MA $449,000 by Ben JerromContact Ben Jerrom directly for further details on all of our current listings.Wine & Malt Package Store Full Alcohol Package Store $359,000Middlesex County, MANorfolk County, MAListing Type: Location: Asking Price:Norfolk County, MA$385,000 Wine & Malt Package Store $350,000Package Store License - Wine & Malt Westborough, MA$85,000 Type 44 Plenary Retail Distribution License Teaneck, NJ$170,000
Page 11
Grocers Continue To See 44 Lift In Alcohol Sales Store Retailer Planograms Including Alcohol Are Rewarded Super Market News Article Oct 7 2021 by Micheal Browne Looking For A License Whether you are a grocer an existing retailer operator or purchasing for the first time we can help What you need to fully understand is not all brokers are created equal We ve been told time and time again that both Sellers and Buyers alike wouldn t have been able to complete the transaction without us DAN NEWCOMB Founder CEO Liquor License Advisor 617 306 1551 dnewcomb llausa com You don t want a Generalist you need a Specialist We re here for you THE ADVISOR MAGAZINE 11
Page 12
Contact us today to find outmore. If you are interested in looking atoptions for your license you mayqualify for a "license swap" inwhich you would exchange yourFull Alcohol License for a Wine &Malt License and receive cash forthe difference in value.We find some Bostonestablishments that hold a FullLicense don't fully utilize it andcould trade it for a profit.Contact us directly to see if youqualify.License Swap Plus Cash
Page 13
Did you know that for over 2 decades, our Founder, Dan Newcomb, hasbeen in the liquor license industry as the "go-to" for other industryprofessionals and leaders? Every phone call that comes into our office is about a liquor license. Wedon't work in any other industry besides liquor stores and licenses.We provide owners with a "firewall" to protect them from all of the pitfallswe know are out there throughout a transaction because we know how toprepare the deal and navigate the waters. We're here for you.Dan NewcombCEO & FounderBen JerromBuyer SpecialistJennifer MedicoTransaction SpecialistGlenn LawlerSeller SpecialistMichelle HansfordSeller ConciergeNatali WilliamsSpecial ProjectsSherri BeauchampMarketing Specialist
Page 14
© Liquor License Advisor 2021, All Rights Reserved Unless Otherwise NotedSpecial Contributions & Acknowledgements:- Features Editor & Editorial Assistant: Michelle Hansford- Magazine & Digital Editor: Sherri Beauchamp.THE ADVISOR MAGAZINE  | 14Predictions For 2021 Holiday Sales: What's Hot & What's Not (Page 4)1 - BevAlc Insight's Top Predictions for 2021 Holiday Sales, (Source: https://bevalcinsights.com/bevalc-insights-top-predictions-for-2021-holiday-sales/)How Shortages Could Impact U.S. Liquor Store Owners (Page 6)2 - Is There A Liquor Shortage Looming In Your State? by Elva Ramirez, Jul 26, 2021, Source:https://www.forbes.com/sites/elvaramirez/2021/07/26/is-there-a-liquor-shortage-looming-in-your-state/3 - Here's Why Some Places Are Rationing Liquor Sales—Indefinitely by Nicholas Reimann, Oct. 9, 2021 (Source:https://www.forbes.com/sites/nicholasreimann/2021/10/09/heres-why-some-places-are-rationing-liquor-sales-indefinitely/)4 - Why Liquor Shortages Caused By The COVID-19 Pandemic Persist In Some States, Joe Hernandez, September 22,2021 (Source: https://www.npr.org/2021/09/22/1039600464/liquor-shortages-covid-19-pennsylvania-virginia-ration-alcohol)Booze Free Bottle Shops: More Than A Trend (Page 9)5 - The majority of non-alcoholic drinkers in the US also buy booze, The Drinks Business Article, October 13, 2021,by Jessica Mason (Source: https://www.thedrinksbusiness.com/2021/10/the-majority-of-non-alcoholic-drinkers-in-the-us-also-buy-booze/)6 - Why I'm Going Full Time on Non-Alc, Medium Article Published by Douglas Watters on October 25, 2021 (Source:https://medium.com/@douglaswatters/why-im-going-full-time-on-non-alc-806d4b29c0af)7 - https://www.spiritedaway.us/ Grocers Continue To See 44% Lift In Alcohol Sales (Page 11)8- SN Trends Report: Center Store success continues for grocers by Michael Browne, Oct. 7, 2021 (Source:https://www.supermarketnews.com/issues-trends/sn-trends-report-center-store-success-continues-grocers)
Page 15
The Advisor Magazine runs on a monthly basis to keep stakeholders in theliquor store & liquor license industry in the loop.Liquor License AdvisorSuite 1, 2036 Ocean Street Marshfield, MA 02050 781.319.9800www.LiquorLicenseAdvisor.comCome back for Issue #10 which will reveal the currentstate of the industry, how trends are shaping up into theholiday season and more.