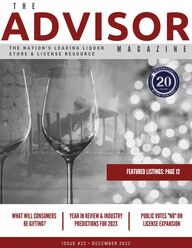 Return to flip book view
The Advisor - Issue #22
Page 1
T T HH E E ADVISOR T TH H EE N NA AT T II O ON N S S LL EE A AD D II N NG G LL II Q QU UO OR R S T O R E L I C E N S E R E S O U R C E STORE LICENSE RESOURCE M A G A Z I N E FEATURED LISTINGS PAGE 12 WHAT WILL CONSUMERS BE GIFTING YEAR IN REVIEW INDUSTRY PREDICTIONS FOR 2023 ISSUE 22 DECEMBER 2022 PUBLIC VOTES NO ON LICENSE EXPANSION
Page 2
Who could have predicted this year?In all of the years I've been in the industry, I can honestly say the only thingthat remains constant is change.Even with the results of question 3 on the recent ballot with consumersvoting "no" to keep things status quo, it doesn't feel like the door is fullyclosed and it is the end of the battle.With that in mind, our team here at Liquor License Advisor® wish youpeace, prosperity and much-earned rest as we come into the peak and thenexhale of the holidays.Enjoy your precious time with loved ones!Sincerely,
Page 4: Year In Review & Industry Predictions For2023 (Q&A With DanNewcomb)Page 6: Tax Credits For Owners (Time Sensitive)Page 7: Retail Alcohol Trends From 2022 & Into2023Page 9: What To Expect When You List With UsPage 11: What Will Consumers Be Gifting?CEO's NoteThe ending of another year brings reflection on the past 12months for all stakeholders.Looking ForFeatured LiquorStore Listings?www.LiquorLicenseAdvisor.comTHE ADVISOR MAGAZINE  | 2Founder, CEOLiquor License Advisor®D A N N E W C O M BLiquor License Advisor® has been atrusted resource in the liquor storeand license industry since 2002.CLICK HERE

Page 3
Public Votes No On License Expansion Where do we go from here by Dan Newcomb The results of the vote show that consumers don t want anything to change yet THE PUBLIC HAS SPOKEN THE FUTURE OF THE 3 TIER ALCOHOL SYSTEM The result of Question 3 on November 8th was surprising for some and welcomed by others The ongoing David versus Goliath saga for control over the retail tier of the liquor industry has been nothing short of interesting Of course each side has a vested interest in the liquor license cap per owner across the state Grocers and large corporate entities are looking to blow the roof off the cap by either removing the cap entirely or creating a new category in which they will be able to work around the cap Owners have been open to raising the cap responsibly as per their 21st Century Alcohol Reform Proposal put to vote this past November This was a compromise to maintain the value of their existing license and allow some expansion What s interesting is the public s input on the topic With a reasonable option on the table public opinion showed they are happy with status quo and unwilling to make changes just as they held the line in 2006 Rob Mellion Executive Director general Counsel of Massachusetts Package Stores Association reported 169 bills were proposed in 2022 and he expects the pressure to continue for out of state disruptors pushing for deregulation of three tier separation license expansion new types of Section 15 licenses legalization of direct to consumer shipping of spirits and more Voters will have the last say and for now they re not looking for change
Page 4
Question: What was the most common question you got from liquor store owners in 2022? What about restaurant owners?
A: Over the course of 2022, the most common question that has been a theme amongst liquor store owners is how to maximize the sale price of their store, having sales trending downward since the pandemic. Potential buyers have been requesting 2022 sales because they feel like they reflect earnings before COVID. Since the pandemic, owners have been trying to rejuvenate their business model to stay competitive, and now, with the challenging economy, owners are once again feeling the sense of unsettlement that they had hoped was over. Our team has the knowledge and understanding of the industry, especially during these times, to ensure our clients receive the maximum return on their investment. From start to finish, we help our clients with financial positioning, identifying key team members (attorneys, accountants, etc.), marketing, finding the right buyer, and closing out the sale.
For restaurant owners, the most common inquiry we get is if there are any licenses available for sale. The demand for on-premise licenses is at an all-time high and with the low supply, they are worth more than you would think. Reflecting on 2022 specifically, the Boston restaurant scene has been booming at a fast pace with the COVID regulations being lifted and therefore, Boston licenses are hard to come by. So, the answer is, yes we have licenses available but it is also worth mentioning that restaurant owners should keep the high demand in mind if they are considering selling their license.
Question: What surprised you the most in 2022 about the liquor license industry?
A: Going off the common questions we have gotten this year, I have been most surprised by the lack of availability for on-premise licenses in the City of Boston. For off-premise licenses, I was surprised by the outcome of Question #3 which made it clear that Massachusetts voters do not like change when it comes to liquor stores and they prefer high-quality stores over a high quantity of stores.
Question: What do you think the results of Question #3 mean for liquor store owners?
A: I think that the final result of Question #3 is going to stabilize off-premise license value and that it's a missed opportunity for smaller beer and wine retail stores to capitalize on selling their license to big box stores and will overall decrease the value of beer and wine licenses, since they were going to be in high demand if Question #3 passed. It's been predicted that bills will be refiled by big box companies in an effort to expand the number of licenses and as well as a scheme for deregulatory initiatives.
Page 5
Although the final result of Question 3 was not the outcome we had hoped for, it still creates opportunities for liquor store owners. As I had mentioned before, consumers made it clear that they prefer high-quality stores over a high quantity of stores, so owners should consider advancing their customer service and overall brand to stabilize or increase their customer base.
Question: What can Liquor License Advisor clients expect in 2023?
A: Our team is really excited about what's to come for our clients in the new year. Clients can expect an even higher level of service and more activity as we anticipate an influx of new inventory. We've seen a lot of changes over the past year, and our whole purpose is to help in the best way we know how: to get you the highest dollar for your store in the shortest amount of time possible by knowing all of the steps along the way.
Question: What are your predictions for liquor store owners in 2023?
A: With the high demand for off-premise licenses, licenses are going to be put under agreement and purchased at a fast past once they become more available. Off-premise owners and potential buyers should anticipate and prepare for a fast transaction and a higher value. It is encouraged that whether you are a buyer or a seller, to plan accordingly because the process will move at a fast pace. Our team has experience with experienced buyers, first-time buyers, entrepreneurs, and more as well as long-term owners, absentee owners, and so on. There's no situation we haven't seen over the last two decades and we are fully equipped to move the process as seamlessly and quick as possible.
Question: What are your predictions for restaurant owners in 2023?
A: In 2023, I foresee more liquor stores becoming available for purchase. With the current state of the economy, the ever-changing landscape, and the labor shortage, people are getting tired of the heavy workload.
Page 6
Guaranteed To Maximize Refundable Credits For Local And Small To Medium Sized Businesses So Easy That Your Entire Commitment Is 15 Minutes No Upfront Fees To Get Qualified - 100% Contingent On Your Refund Audit-Proof Documentation For IRS Support No Other CPA Firm Offers The 15 Minute Refund™ Yes, Qualify Me!Companies outside of the liquor license industry are also eligible to apply. Any links contained in this ad are affiliate referral links. Free, No Obligation Pre-Qualification.By answering a few, simple,non-invasive questions ourteam of ERTC experts candetermine if you likely qualifyfor a no-strings-attached taxcredit. There is no cost orobligation to be pre-qualified.Find Out If Your Company Qualifies To Get Up To $26k Per W2 Employee In A Few Simple StepsWhy Choose ERTC Fast Program™? We only specialize in maximizing Employee Retention Tax Credits for small business owners. You won't find us preparing income taxes, compiling financial statements, or providing attestation services of any kind.When you engage us, rest assured that you've hired the best CPA Firm to lock in this one-time opportunity for a large refund check from the IRS. Even If You Received The PPP LoanIf you received either or bothPPP Loans you may still qualifyfrom the ERTC Rebate as well.Many of our clients havealready! No Restrictions - No Repayment.While the ERTC was created inthe CARES act along with thePPP Loans – this is not a loan,there is no repayment. Thereare no restrictions for howrecipients of the credit mustuse the funds.
Page 7
BevAlc Insignts by Drizly hasjust released their 2022 RetailReport, which outlines not onlytheir findings for the past year,but also what they anticipatecoming next as we move into2023. Let's take a closer look atthe products with whichretailers are stocking theirshelves, despite rising costs,lagging supply chains, and astruggling economy. Everywhere you look these days,concerns surrounding inflationseem to be front and center.And although alcohol retailersfind themselves facing thesesame concerns, they are mosttroubled by supply chain issues,which continue to plagueretailers. Despite inflation woes,consumers are still seeminglywilling to pay for not onlyalcoholic beverages but alcoholdelivery services as well, a trendthat took off during thepandemic and hasn't seemed to slow down yet. According to thereport, "73% of respondentsreported that shoppers arestill willing to pay for theconvenience of delivery,underscoring that newshopping habits formedover the past few years thatappear to have stayingpower." Retailers noted that consumersare still buying alcohol despiteinflation – they are just buyingless expensive options. Forexample, 59% of retailers expectto sell more of the lessexpensive champagne bottlesthis year than last year, althoughthey do predict that champagnewill continue to gain popularityin 2023, right behind red wine inthe wine category. Red wine has been a favorite purchaseamongst Gen Z consumers, whoinfluence the market in a bigway, and retailers expect muchof the same for 2023 in thiscategory. Other alcoholic beverages tokeep in stock in 2023 are tequila,craft beer, and canned alcoholicbeverages, according to thereport. "Tequila shows no signs ofslowing down", the report stated,and 54% of retailers said theproduct has over-performed theirexpectations for the past year.2023 may see a craft beercomeback, with IPAs leading thepack. 71% of retailerrespondents said that RTDcocktails and canned hardseltzers have permanentlychanged the landscape of theirshelves and coolers, and thetrend doesn't seem to be goinganywhere in 2023. Retail Alcohol Trends From 2022 & Into 2023by Michelle HansfordA Review of BevAlc Insights Retail Report by Drizly
Page 8
In addition to these alcohol products, non-alcoholic beverages continue to remain popular, with non-alcoholic beer being the most popular option. In addition to paying attention to what they're drinking, consumers are also paying attention to how –and who – they're drinking. Consumers have voiced their commitment to particular types of alcoholand particular producers of this alcohol, with the most popular categories being locally-madeproducts, celebrity-owned labels, health-conscious choices, organic/natural options, non-alcoholicofferings, as well as products owned by a member of a historically underrepresented group. Consumers have made their preferences known, and retailers – who are under the pressures of astruggling economy – are listening to meet consumer needs in the hopes of fulfilling these needs tokeep their customers – and their bottom line – happy. THE ADVISOR MAGAZINE  | 8
Page 9
HERE'S WHAT TO EXPECT WHEN YOU LIST WITH US.Contact our Seller Specialist, Glenn Lawler, at617.655.8549 or glawler@llausa.com to begin theprocess of listing your liquor store. Our Seller Specialist will notify the LLA Team that we havea new seller, and someone from our Team will reach out toconduct a discovery call, during which we will ask you basicquestions about your store, including the location, recentsales, and reason for selling. The LLA Client Concierge will contact you to discuss yourListing Agreement and to review the documents needed toprepare your store for market. We refer to these documentsas your "Due Diligence", and they are critical to accuratelypricing your store, as well as to effectively marketing yourstore. Our Team compiles your documents into anelectronic presentation to share with qualified, interestedbuyers who have signed our NDA. You might wonder how we find qualified buyers to makeoffers: we have a VIP list of buyers waiting for great stores,and because we can often match our sellers withcompatible buyers, sometimes stores don't even make it tomarket because we can match them with an existing highlyqualified buyer, to make the process as seamless for you aspossible. If your store does make it to market, we utilize avariety of strategies to put your store in front of the rightpeople, with our full marketing suite. Once we have received an offer from a qualified buyer, ourBuyer Specialist will immediately alert you and will workwith you and the potential buyer to negotiate the terms of anagreement; review the existing lease with the landlord, aswell as negotiate any new lease options with the landlord;and prepare the agreement with your best interestsprotected. STEP 1:LISTING AGREEMENTSTEP 2:OFFER RECEIVEDThere are many moving parts when selling your liquor store, and it's easy to feel overwhelmed. That's why you haveus – so we can move you through the process step by step. From start to finish, our team members are working withyou from our introductory call to the moment we hand the store keys over to the new owner. We're here for you. THE ADVISOR MAGAZINE  | 9
Page 10
STEP 3:OFFER ACCEPTEDSTEP 4:CLOSINGWhen you make the decision to accept anoffer, the LLA Team updates the buyerrepresentation as required. Additionally, weprepare a Transaction Synopsis, includingobtaining the necessary certifications. OurTeam represents you to the ABCC for permitchange approvals, as well as attendshearings as required. As we reach the finish line, our Team continuesto work with you by developing a transactionchecklist for all involved parties, as well aspreparing closing documents. We work with yourattorney, as well as the buyer's attorney, toensure that everything is completed in a timelymanner. THE ADVISOR MAGAZINE  | 10Thinking About Selling? Contact Us: Glenn LawlerSeller SpecialistCall/text: 617.655.8549Email: glawler@llausa.com
Page 11
What Will Consumers Be Gifting How to Stay Competitive This Holiday Season by Kate Newcomb The holiday season is upon us and it is time to think about what beverages to stock up on and showcase at your store to make gift giving seamless for your customers Whether the gift is for a party host co worker friend or family we ve been paying attention to the most popular trends and here s what you need to know in order to stay competitive this season BevAlcInsights by Drizly forecasted this season s top alcohol gifts based on 2022 sales and gifting trends in their recent article 2022 Holiday Gift Guide for Retailers The report encourages retailers to stock up on luxury beverages such as champagne premium red wine and high end spirits Based on Drizly s 16 increase in the average unit price of gift orders from 2021 to 2022 Drizly s head of consumer insights Liz Paquette anticipates that consumers will spend even more this year Forbes reported on the increase of luxury beverage sales in their recent article Drinkers Continue To Spend As Sales Of Luxury Booze Grows 23 But Is It The Category Recession Proof The answer for the foreseeable future is yes as luxury spirits continue to thrive the most noteworthy being tequila and American whiskey This data comes as no surprise since the holiday spirit boosts consumers tendency to splurge when purchasing special gifts but it is also important to recognize diverse budgets in order to maximize consumer sales In addition to luxury and budgetfriendly beverages BevAlcInsights expressed confidence in drink categories such as champagne sparkling wine red wine tequila RTD cocktails scotch bourbon and other whiskeys being popular on gift giving lists this year Make sure to keep these popular trends in mind not only when you are purchasing inventory but also when deciding what to showcase at the front of your store this Holiday season Consumers have a lot on their minds as the holiday season gets into full swing and they won t soon forget if your store makes their shopping efforts a little merrier and a little brighter this year For your consideration Drizly reported their top gifted beverages under 25 being La Marca Prosecco Whispering Angel Ros La Crema Sonoma Coast Pinot Noir Chandon Brut Sparkling and Tito s Handmade Vodka
Page 12
THE ADVISOR MAGAZINE  | 12QUESTIONS ABOUT LISTINGS?Call/Text Ben Jerrom Partner & Buyer SpecialistCell: 617.936.7102OUR FEATURED LISTINGSLiquor License Advisor is proud to offer, for yourconsideration, the sale of a full package store in aquaint town within Middlesex County. The store isideally situated in a shopping plaza with ample parkingthat is also home to small restaurants and a hair salon,as well as other businesses. In addition to a greatlocation, the store has a full basement for storagepurposes. The store also offers tobacco products andlottery, as well as delivery service, all of which adds tothis store's convenience. A new owner will enjoy theseestablished amenities, while bringing this store to thenext level!Featured Listing: Full Alcohol - Package Store Middlesex CountyAsking Price: $300,000 by Ben JerromContact Ben Jerrom directly for further details on all of our current listings.Wine & Malt Package Store$125,000 Suffolk CountySuffolk CountyMiddlesex County$825,000 Full Alcohol Package Store$325,000 (Real Estate Available)Call For InformationCall For InformationFull Alcohol Package Store Middlesex County$350,000 Asking Price: Location:Listing Type:Full Alcohol Package Store Middlesex County$749,000 Full Alcohol Package StoreFull Alcohol Package StoreNorfolk County$750,000Full Alcohol Package StorePlymouth County$525,000 Package Store License (WM) Sommerville, MA$159,000
Page 13
YOUR TRUSTED INDUSTRY PARTNERDid you know that for over 2 decades, our Founder, Dan Newcomb, hasbeen in the liquor license industry as the "go-to" for other industryprofessionals and leaders? Every phone call that comes into our office is about a liquor license. Wedon't work in any other industry besides liquor stores and licenses.We provide owners with a "firewall" to protect them from all of the pitfallswe know are out there throughout a transaction because we know how toprepare the deal and navigate the waters. We're here for you.Meet Our TeamDan NewcombCEO & FounderBen JerromBuyer SpecialistJennifer MedicoTransaction SpecialistGlenn LawlerSeller SpecialistMichelle HansfordSeller ConciergeSherri BeauchampMarketing SpecialistQuestions?Call 617.648.5558 orvisit: LiquorLicenseAdvisor.comKate NewcombProject Specialist
Page 14
References:© Liquor License Advisor 2022, All Rights Reserved Unless Otherwise NotedSpecial Contributions & Acknowledgements:- Features Editor & Editorial Assistant: Michelle Hansford & Kate Newcomb;- Magazine & Digital Editor: Sherri Beauchamp.THE ADVISOR MAGAZINE  | 13Public Votes "No" On License Expansion (Page 3)1 – Message From The Executive Director, Rob Mellion of Massachusetts Package Stores Association letter to Membership, November News & Trends (November 23, 2022) Retail Alcohol Trends From 2022 & Into 2023: A Review of BevAlc Insights Retail Report by Drizly (Page 7)1 – BevAlc Insights by Drizly 2022 Retail Report What Will Consumers Be Gifting? (Page 11)1 – BevAlc Insights' 2022 Holiday Gift Guide for Retailers (https://bevalcinsights.com/bevalc-insights-2022-holiday-gift- guide-for-retailers/)2 - Drinkers Continue To Spend As Sales Of Luxury Booze Grows 23%. But Is It The Category Recession Proof? by Kate Dingwall on October 20, 2022 at Forbes.com (https://www.forbes.com/sites/katedingwall/2022/10/20/drinkers- continue-to-spend-as-sales-of-luxury-booze-grows-23-but-is-it-the-category-recession-proof/?sh=4d7afe3b5e32)
Page 15
THE ADVISOR MAGAZINE BY LIQUOR LICENSE ADVISOR The Advisor Magazine runs on a monthly basis to keep stakeholders in the liquor store liquor license industry in the loop January 2023 Come back for Issue 23 which will reveal the current state of the industry how holiday trends are shaping up and more Liquor License Advisor 10 Post Office Square Suite 800 South Boston MA 02109 617 648 5558 www LiquorLicenseAdvisor com