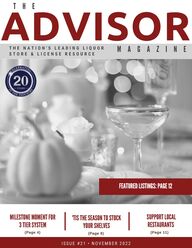 Return to flip book view
The Advisor - Issue #21
Page 1
T T HH E E ADVISOR T TH H EE N NA AT T II O ON N S S LL EE A AD D II N NG G LL II Q QU UO OR R S T O R E L I C E N S E R E S O U R C E STORE LICENSE RESOURCE M A G A Z I N E FEATURED LISTINGS PAGE 12 MILESTONE MOMENT FOR 3 TIER SYSTEM TIS THE SEASON TO STOCK YOUR SHELVES SUPPORT LOCAL RESTAURANTS Page 4 Page 8 ISSUE 21 NOVEMBER 2022 Page 11
Page 2
CEO s Note As we approach a milestone in the history of the liquor industry there s so much to be thankful for Looking For Featured Liquor Store Listings CLICK HERE Page 4 Milestone Moment For 3 Tier Liquor License Industry Are you ready for the holiday season As families start to come together for the holiday season opposing forces are trying to divide the liquor license industry on Question 3 Page 6 Vote YES On Question 3 Video The November 8th election is days away and it will fundamentally change the way our industry operates Whichever way the vote goes things will change for the first time since prohibition Page 8 Tis The Season To Stock Your Shelves For that reason tell everyone you know to vote YES on question 3 This will support local main street businesses and provide safe and convenient options for consumers Page 9 10 What To Expect When You List With Us We simply don t want a world where the answer is NO so get out and vote Sincerely DAN NEWCOMB Founder CEO Liquor License Advisor THE ADVISOR MAGAZINE 2 Page 11 Support Local Restaurants This Season Liquor License Advisor has been a trusted resource in the liquor store and license industry since 2002 www LiquorLicenseAdvisor com
Page 3
Holidays Fast Approaching With the blink of an eye 2022 is coming to an end by Dan Newcomb COMING TOGETHER As families and friends prepare to celebrate another holiday season most will involve treating themselves and others to alcohol offerings Retailers and restaurants should be prepared for a season filled with full shelves and supportive staff The latter has been a challenge for owners and operators for some time Some are still overcoming working with limited staff causing them to rely on themselves or other staff maybe a little too much resulting in burnout A little compassion goes a long way during the holidays and all days SAVING THE 3 TIER SYSTEM The historic vote on November 8th will either be the beginning of the new way of doing things in the tier 3 system or the end of it altogether Changes are coming to the liquor industry are you prepared We can all agree that public safety and convenience are the responsibility of all stakeholders in the liquor industry If you need support or want to know where you stand in today s market give us a call today It s the classic David versus Goliath story and we are heading into the last chapter The end is up to us the voters Raising awareness is up to all involved to display the importance of voting YES on questions 3 as time is ticking down 617 648 5558
Page 4
Milestone Moment Coming For 3 Tier Liquor License Industry Vote YES To Question 3 If you haven t voted yet this is your friendly reminder that the November 8 election is fast approaching If you re an independent main street liquor store owner we don t have to tell you how important a YES vote is however many people in the general public are still wondering which way to vote It s important that everyone understands how the outcome will affect the industry Imagine running a family business for more than a decade through a pandemic and in most cases operating as one of the only steadfast familiar faces THE ADVISOR MAGAZINE 4 customers come to know behind the counter You work hard long hours and every dollar earned goes to the legacy you are building for your family You took a risk investing in a liquor license not only financially but your blood sweat and tears to build a life for you and your family Enter outside forces from out of state trying to maneuver the liquor license quota in their favor MassPack s Rob Mellion has said repeatedly that the proposed bills on the 3 tier alcohol system has exponentially increased in the past few years Where liquor stores are concerned each one is designed to move away from the outdated prohibition days but mostly to abolish the quota system entirely to allow unlimited liquor licenses with a few strokes of a pen Removing the quota system entirely would see the value of licenses drop to zero literally overnight You can imagine the devastation this would hold for those owners who have invested 5 6 figures into a license Not to mention a highly regulated industry turning into the wild west that simply would be extremely difficult to ensure public safety As a strategic move independent alcohol retailers came together to propose the 21st century alcohol reform of the current quota system to not concede but allow a long overdue update to the highly regulated liquor industry
Page 5
MILESTONE MOMENT COMING FOR 3 TIER LIQUOR LICENSE INDUSTRY Vote YES On Question 3 A YES vote on Question 3 supports the local package store you know the one who has supported local sports teams and community events for years while allowing for responsible growth of the retail tier This David versus Goliath battle is coming to a head whether the general public realizes it or not The outcome of the Question 3 vote will result in a milestone moment for the industry and determine the future of the industry as a whole We believe people should be educating everyone they know to vote YES on Question 3 and here s why Convenience strategic access to more alcohol licenses thus more options for customers Public Safety doesn t allow for self check out of alcohol which will prevent and ultimately deter underage and illegal alcohol sales Promote Tourism allows for valid out of state IDs to be reasonably relied upon for verification and confirmation of age Encourage everyone you know to vote YES on Question 3 because the survival of main street local mom and pop type liquor stores could hang in the balance Questions about liquor licenses in your local area Give us a call 617 648 5558 THE ADVISOR MAGAZINE 5
Page 6
Video credit to 21st Century Alcohol Retail Reform Committee. Formore information visit Yeson3mass.com.THE ADVISOR MAGAZINE  | 6Vote YES On Question 3 VideoLiquor License Advisor Supports "YES" Vote On 3.Click Play Below To Watch The Video & Learn Why:
Page 7
Guaranteed To Maximize Refundable Credits For Local And Small To Medium Sized Businesses So Easy That Your Entire Commitment Is 15 Minutes No Upfront Fees To Get Qualified - 100% Contingent On Your Refund Audit-Proof Documentation For IRS Support No Other CPA Firm Offers The 15 Minute Refund™ Yes, Qualify Me!Companies outside of the liquor license industry are also eligible to apply. Any links contained in this ad are affiliate referral links. Free, No Obligation Pre-Qualification.By answering a few, simple,non-invasive questions ourteam of ERTC experts candetermine if you likely qualifyfor a no-strings-attached taxcredit. There is no cost orobligation to be pre-qualified.Find Out If Your Company Qualifies To Get Up To $26k Per W2 Employee In A Few Simple StepsWhy Choose ERTC Fast Program™? We only specialize in maximizing Employee Retention Tax Credits for small business owners. You won't find us preparing income taxes, compiling financial statements, or providing attestation services of any kind.When you engage us, rest assured that you've hired the best CPA Firm to lock in this one-time opportunity for a large refund check from the IRS. Even If You Received The PPP LoanIf you received either or bothPPP Loans you may still qualifyfrom the ERTC Rebate as well.Many of our clients havealready! No Restrictions - No Repayment.While the ERTC was created inthe CARES act along with thePPP Loans – this is not a loan,there is no repayment. Thereare no restrictions for howrecipients of the credit mustuse the funds.
Page 8
Tis The Season To Stock Up Your Shelves Your Plan to Stay Competitive This Holiday Season by Kate Newcomb Low and no alcoholic beverages have been on the rise for quite some time with the trend of mindful consumption but specifically low and no alcoholic spirits are notable to stock up on this season BevAlc Insights by Drizly reported that they are a category to watch stating that While all categories have seen growth across non alcoholic RTD ready to drink cocktails offerings non alcoholic spirits have maintained popularity as have been the fastest growing they are effortless and across all three categories says convenient for consumers and Liz Paquette Drizly s head of quite frankly those hosting consumer insights holiday gatherings BevAlc Insights by Drizly reported that Speaking of mindful the top selling RTD flavors consumption another dominant include vodka soda vodka trend to consider when stocking based margaritas mai tais gin up is eco friendly products and tonics gin based and old especially with Gen Z and fashioned Popular brands in Millennials in mind as they value the market include High Noon quality over quantity They want Cutwater Canteen Ketel One to know what they re consuming Long Drink On the Rocks and how it was made where it came from and who made it Two Chicks The holiday season is right around the corner and with the gathering of friends and family come food and beverages What beverages should be at the forefront of your mind when stocking up your store for an influx of consumers this holiday season We ve got you covered Beverage Dynamics wrote an article on alcohol trends for 20222023 explaining that everyone strives to drink premium brands For this generation that is younger it is less about quantity and more about quality The idea of better ingredients that are also produced in a responsible process better for the environment is a priority and a must for the younger generations who are more educated about our carbon footprint As we ve seen over the years convenience wellness and mindfulness continue to influence consumer behavior Be intentional when ordering inventory stock up on the trends that are in high demand to stay competitive and give the consumers what they want this holiday season THE ADVISOR MAGAZINE 8
Page 9
HERE S WHAT TO EXPECT WHEN YOU LIST WITH US There are many moving parts when selling your liquor store and it s easy to feel overwhelmed That s why you have us so we can move you through the process step by step From start to finish our team members are working with you from our introductory call to the moment we hand the store keys over to the new owner We re here for you Contact our Seller Specialist Glenn Lawler at 617 655 8549 or glawler llausa com to begin the process of listing your liquor store STEP 1 LISTING AGREEMENT You might wonder how we find qualified buyers to make offers we have a VIP list of buyers waiting for great stores and because we can often match our sellers with compatible buyers sometimes stores don t even make it to market because we can match them with an existing highly qualified buyer to make the process as seamless for you as possible If your store does make it to market we utilize a variety of strategies to put your store in front of the right people with our full marketing suite Once we have received an offer from a qualified buyer our Buyer Specialist will immediately alert you and will work with you and the potential buyer to negotiate the terms of an agreement review the existing lease with the landlord as well as negotiate any new lease options with the landlord and prepare the agreement with your best interests protected THE ADVISOR MAGAZINE 9 Our Seller Specialist will notify the LLA Team that we have a new seller and someone from our Team will reach out to conduct a discovery call during which we will ask you basic questions about your store including the location recent sales and reason for selling The LLA Client Concierge will contact you to discuss your Listing Agreement and to review the documents needed to prepare your store for market We refer to these documents as your Due Diligence and they are critical to accurately pricing your store as well as to effectively marketing your store Our Team compiles your documents into an electronic presentation to share with qualified interested buyers who have signed our NDA STEP 2 OFFER RECEIVED
Page 10
STEP 3 OFFER ACCEPTED When you make the decision to accept an offer the LLA Team updates the buyer representation as required Additionally we prepare a Transaction Synopsis including obtaining the necessary certifications Our Team represents you to the ABCC for permit change approvals as well as attends hearings as required As we reach the finish line our Team continues to work with you by developing a transaction checklist for all involved parties as well as preparing closing documents We work with your attorney as well as the buyer s attorney to ensure that everything is completed in a timely manner STEP 4 CLOSING Thinking About Selling Contact Us Glenn Lawler Seller Specialist Call text 617 655 8549 Email glawler llausa com THE ADVISOR MAGAZINE 10
Page 11
Remember at the height of thepandemic when ordering takeoutfrom a favorite restaurant wasone of our only encounters with"normal life"? While most otherbusinesses mandated employeesto work from home, restaurantowners and operators shiftedtheir business approach toaccommodate pandemic life:from offering takeout, curbside,and drinks-to-go; to operatingwith staff and supply shortages;to creating outdoor dining spacesas safety measures forcustomers – all while followingthe pandemic restrictions – thesebusinesses are now struggling tomake ends meet with the risingcosts of just about everythingneeded to run a restaurant. Inflation is hitting everyone'swallets hard as we near the endof 2022. Businesses andcustomers alike are feeling theeffects of higher pricesassociated with just abouteverything these days. However,despite the damaging effects ofinflation, we find ourselves fastapproaching the holiday seasononce again here in Boston, andwhat better way to spreadholiday cheer than to support thelocal restaurants that have donetheir best accommodatecustomers throughout the pastfew challenging years? During the pandemic, restaurantowners and operators were theunsung heroes in the serviceindustry. This holiday season, considersupporting the local restaurantsthat worked hard to create somenormalcy and comfort duringpandemic times. If you arelooking to purchase gifts for lovedones on your holiday list, arestaurant gift card – no matterhow large or small the sum – is agreat choice. Or if you are lookingfor a way to celebrate theholidays, a meal shared withfriends and family at a restaurantis a way to not only support localbusinesses but to embrace post-pandemic times. *** THE ADVISOR MAGAZINE  | 11Support Local Restaurants This Holiday Season by Michelle Hansford
Page 12
THE ADVISOR MAGAZINE  | 12QUESTIONS ABOUT LISTINGS?Call/Text Ben Jerrom Partner & Buyer SpecialistCell: 617.936.7102OUR FEATURED LISTINGSLiquor License Advisor is proud to offer, for yourconsideration, the sale of a convenience store that hasrecently upgraded their beer & wine license to a full liquorlicense and is ideally situated on a busy college campus inMiddlesex County. The store, which the current owner hasowned for over 15 years, is currently profiting from thestudents being back on campus full time, and because it issituated on a main street, it has a lot of foot traffic and onstreet parking. There is plenty of potential for expansion forthe new owner, including building upon the current inventoryand offering delivery service. This store is an excellent opportunity for a new owner tocapitalize on a busy student population and take the newlyestablished full liquor license to the next level!Featured Listing: Full Alcohol - NEW Package Store Middlesex CountyAsking Price: $350,000 by Ben JerromContact Ben Jerrom directly for further details on all of our current listings.Wine & Malt Package Store $425,000 Middlesex CountySuffolk CountySuffolk County$125,000 Wine & Malt Package Store$325,000 (Real Estate Available)Call For InformationCall For InformationFull Alcohol Package Store Middlesex County$300,000 Asking Price: Location:Listing Type:Full Alcohol Package Store Essex County$425,000 Full Alcohol Package StoreFull Alcohol Package StoreMiddlesex County$1,000,000Full Alcohol Package StoreNorfolk County$750,000
Page 13
YOUR TRUSTED INDUSTRY PARTNERDid you know that for over 2 decades, our Founder, Dan Newcomb, hasbeen in the liquor license industry as the "go-to" for other industryprofessionals and leaders? Every phone call that comes into our office is about a liquor license. Wedon't work in any other industry besides liquor stores and licenses.We provide owners with a "firewall" to protect them from all of the pitfallswe know are out there throughout a transaction because we know how toprepare the deal and navigate the waters. We're here for you.Meet Our TeamDan NewcombCEO & FounderBen JerromBuyer SpecialistJennifer MedicoTransaction SpecialistGlenn LawlerSeller SpecialistMichelle HansfordSeller ConciergeSherri BeauchampMarketing SpecialistQuestions?Call 617.648.5558 orvisit: LiquorLicenseAdvisor.comKate NewcombProject Specialist
Page 14
References:© Liquor License Advisor 2022, All Rights Reserved Unless Otherwise NotedSpecial Contributions & Acknowledgements:- Features Editor & Editorial Assistant: Michelle Hansford & Kate Newcomb;- Magazine & Digital Editor: Sherri Beauchamp.THE ADVISOR MAGAZINE  | 13Vote "YES" On Question 3 Video (Page 6)1 – Video paid for by 21st Century Alcohol Retail Reform Committee (www.yeson3mass.org) 'Tis The Season To Stock Your Shelves (Page 8)1 – Drizly's Top 5 RTD Cocktail Flavors, BevAlc Insights (https://bevalcinsights.com/drizlys-top-5-rtd-cocktail-flavors/) 2 – Drizly's Top Predictions for Fall 2022 Sales, BevAlc Insights (https://bevalcinsights.com/drizlys-top-predictions-for- fall-2022-sales/) 3 – 7 Alcohol Trends in 2022-23, Beverage Dynamics (https://beveragedynamics.com/2022/09/06/7-alcohol-trends-in- 2022-23/)
Page 15
THE ADVISOR MAGAZINEB Y L I QU O R L I CE N S E A DV I S O RThe Advisor Magazine runs on a monthly basis to keep stakeholders in theliquor store & liquor license industry in the loop.Liquor License Advisor10 Post Office SquareSuite 800 SouthBoston, MA 02109 617.648.5558www.LiquorLicenseAdvisor.comDecember 2022 Come back for Issue #22 which will reveal the currentstate of the industry, how holiday trends are shaping up,and more.