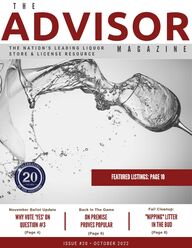 Return to flip book view
The Advisor - Issue #20
Page 1
T T HH E E ADVISOR T TH H EE N NA AT T II O ON N S S LL EE A AD D II N NG G LL II Q QU UO OR R S T O R E L I C E N S E R E S O U R C E STORE LICENSE RESOURCE M A G A Z I N E FEATURED LISTINGS PAGE 10 November Ballot Update Back In The Game Fall Cleanup WHY VOTE YES ON QUESTION 3 ON PREMISE PROVES POPULAR NIPPING LITTER IN THE BUD Page 4 Page 6 ISSUE 20 OCTOBER 2022 Page 8
Page 2
CEO s Note We are about to witness history in the liquor license industry for the first time since prohibition Looking For Featured Liquor Store Listings CLICK HERE Page 4 Why Vote YES on Question 3 Have you been telling everyone you know to vote YES on question 3 on November 8th 2022 Page 6 Fall Cleanup Nipping Litter In The Bud As we approach this historic vote the importance has never been greater The 3 tier alcohol system is about to change hopefully with a YES which will allow responsible expansion of the industry Page 8 Fall Drink Choices On premise has been holding strong despite rising costs inflation and other global factors Patrons have yet to detour from spending their hard earned money on eating and drinking out Page 10 On Premise Proves Popular Despite Inflation We have been supporting owners through this transition period in the liquor industry let us know if we can help The best is yet to come Page 12 Employee Retention Tax Credit Fast Program Sincerely DAN NEWCOMB Founder CEO Liquor License Advisor THE ADVISOR MAGAZINE 2 Liquor License Advisor has been a trusted resource in the liquor store and license industry since 2002 www LiquorLicenseAdvisor com
Page 3
Season of Change With the November vote a month away change is in the air by Dan Newcomb SAVING THE 3 TIER SYSTEM Encouraging and educating everyone you know about the importance of voting YES on question 3 is of the outmost importance to maintain the integrity of the system The proposed changes allow for reasonable and responsible steps to reform For more information on the YES on 3 campaign scan the qr code below VOTE YES ON QUESTION 3 The safe and convenient expansion of alcohol sales requires a controlled and strategic roll out across the 3 tier alcohol system in the commonwealth Locally owned stores across the State of Massachusetts brace for a clash of local versus corporate entities Changes are coming to the liquor industry are you prepared From the get go Rob Mellion of MassPack org has implied that a YES vote on question 3 will allow the small independent owners and operators to fight another day If you need support or want to know where you stand in today s market give us a call today The campaign outline on www YESon3mass com outlines the main benefits for consumers include but are not limited to an increase in customer convenience improved public safety and promotion of tourism in the state 781 319 9800
Page 4
According to the 21st CenturyAlcohol Retail ReformCommittee, voting YES onQuestion #3 will allow for thesafe and convenient expansionof alcohol sales. Question #3will:Progressively increase thenumber of allowed beer andwine licenses from 9 to 18,minus any full liquor licensesowned. The number of fullliquor licenses will be set at 7. Prohibit self-checkout ofalcohol and change the fine forselling to a minor applicable togross sales rather than just foralcohol. Allowing valid out-of-state IDsto be relied upon by a retailerwill increase access to alcoholin a reasonable andresponsible way.There are many ways you can helppromote the Vote YES campaign,including making a donation to the"21st Century Alcohol Retail ReformCommittee"; adding the "Vote Yeson 3" logo to the end of your emailsignature, your store newsletters,and/or website (by copying &pasting the logo); placing "Vote Yeson 3" signs in your store's window,etc.To learn more about what you cando to support this campaign, pleasevisit: https://www.masspack.org/Ballot-InitiativeTHE ADVISOR MAGAZINE  | 4On November 8, 2022Why Vote YES on Question 3PROMOTE CONSUMER CONVENIENCE.1.2. PROMOTE PUBLIC SAFETY.3. PROMOTE TOURISM.
Page 5
For those who have a vested interest and want to go further by financially supporting The 21st CenturyAlcohol Retail Reform you are encouraged to donate by mailing checks to: 21st Century Alcohol Retail Reform, C/O MassPack, 30 Lyman St., Suite 2, Westborough, MA 01581.Or you can also print and mail in the pledge form directly from the MassPack.org website here.WHY VOTE "YES" ON QUESTION #3THE ADVISOR MAGAZINE  | 5Preserving The 3 Tier SystemQuestions about liquor licenses in your local area? Give us a call.781.319.9800781.319.9800View The FormView The Form
Page 6
Autumn means many things in New England: school, football, apple picking, crisper weather…andcleaning up all those leaves! But there is another cleanup effort throughout Massachusetts (andRhode Island) taking place: cleaning up all the litter! In an effort to stop more nip bans in Massachusetts towns (currently five towns have bans), theliquor industry is working hard to push cleanup efforts of our streets, parks, and neighborhoods,which are currently littered with plastic bottles, coffee cups, Styrofoam cups…and yes, nip bottles. The liquor industry is bolstering their efforts by working with the campaign Pick Up Mass andprograms such as Keep Massachusetts Beautiful. Robert Mellion, president of the MassachusettsPackage Store Association, suggests that expanding the bottle bill to include water, nips, and winebottles will help reduce litter. He states in a September Market Watch article that, "The ban is notthe answer. It moves the sales into another community and people bring it right back. The ban justhurts the local retailer."We will keep you updated on how possible additional town bans may affect your bottom dollar, andthe status of the push to eliminate litter instead of nip sales.THE ADVISOR MAGAZINE  | 6"Nipping" Litter In The Budby Michelle HansfordFall Cleanup
Page 7
When it comes to negotiating your commercial real estate lease, understanding what certain termsmean can make all the difference in determining if you're signing a lease that's right for you. Herewe will break down the major components of commercial leases that you will most likelyencounter:We're here to help youmake smart decisions.Call Us: 781.319.9800Call For DetailsUnderstanding Your Commercial Real Estate LeaseQUESTIONS ABOUT A LEASE?What Operating Expenses are Associated with NNN?There are typically three different components associated with a triple net lease outside of base rent:1) Property Taxes; 2) Insurance; and 3) CAM.What is Common Area Maintenance (or CAM) Fees?The Common Area Maintenance fees refer to the common areas of the interior of a building, such aslobbies, restrooms, stairways and elevators, as well as the common areas of the exterior of a building,such as landscaping, the plowing and maintenance of parking lots, walkways, etc. In a triple net lease,each tenant pays a proportionate share of the total CAM costs based on the percentage of the buildingleased by that tenant.What is Triple Net (or NNN) Charges?A triple net lease is a common type of commercial real estate lease. Within this type of lease, the tenant pays the base amount of rent to the landlord, as well as also paying their own individualized operating expenses for utilities and other services.What are the Benefits of a Triple Net Lease?There are benefits to the tenants of triple net leases, including that they pay a proportionate amount ofthe expenses, rather than the total building expenses being tallied up and divided evenly amongst alltenants. That means that less use of utilities, for example, will result in less charges incurred to thatparticular tenant. Tenants also have the ability to review past costs associated with the building tounderstand what they are agreeing to when they sign a lease.*We highly recommend consulting an attorney & accountant to fully understand your responsibilities.
Page 8
Fall Drink Choices Non Alcoholic Less ABV Beverages Coming into Play by Michelle Hansford Although the temperatures may be dropping fall sports are heating up with the NFL now in full swing and the NHL hitting the ice This 2022 fall season marks the first since 2019 that fans can enjoy being spectators at sporting venues without Covid restrictions as well as enjoy hosting gatherings to watch a Sunday afternoon game in their homes or joining friends at a bar to take in a game after work With this regained freedom what will consumers drink of choice be around the TV and in the stands age Gen Zers make more of an impact on the alcohol industry as the younger demographic typically prioritizes health and wellness With consumers across the board focusing more on what they re putting into their bodies non alcoholic options as well as spirit based RTD cocktails are coming into play in a big way Market Watch recently issued an article on the increasing popularity of non alcoholic options With social gatherings back in full swing some opt for non alcoholic choices because according to Market Watch s Recent trends in the beverage Buzzless Boom article Many world continue to gravitate consumers today don t want to towards health and wellness overindulge but they still want to especially as Millennials and of feel included in social gatherings While some are THE ADVISOR MAGAZINE 8 abstaining completely others are opting to drink both alcoholic and non alcoholic beverages with the intent of pacing themselves Non alcoholic beverages are becoming popular amongst beer wine and liquor drinkers according to the article and big brands have jumped on the wagon so to speak with options like Budweiser Zero becoming popular in sporting venues craft brews are following suit Nonalcoholic beverages are also a good option for young professionals who want to make up for lost socialization but don t necessarily want the hangover to go with it Continued
Page 9
FALL DRINK CHOICES CONTINUED NON ALCOHOLIC LESS ABV BEVERAGES COMING INTO PLAY No alcohol beer in particular isn t the only category seeing increased sales spirit based RTD cocktails are also enjoying continued popularity as consumers are opting less for the malt based hard seltzers and more for the spirit based RTD s due to malt beverage s reliance on fermented sugars Market Watch s Hard Seltzer Looking for a Rebound article delves into how RTD cocktails may be stealing the almighty seltzer s thunder although seltzers staying power may be strong enough to live through this trend Seltzers initially became popular amongst younger consumers because they are a low calorie low ABV option both important when embracing a healthy lifestyle However as consumers become ever more savvy and are now offered an even wider variety of canned drinks thank you Covid they may find that beverages that are not malt based may be an even better option Although seltzer sales are dipping they cannot be discounted completely Seltzers can be bought at Wine Malt beverage stores and restaurants whereas spirit based RTD s can only be purchased at stores and restaurants holding a full liquor license Furthermore many popular beer brands launched their own seltzer options to supplement some business taken from craft beer and to reap some of the benefits of seltzer s popularity Market Watch smartly points out that there are loyal Budweiser drinkers who wouldn t think twice about trying a seltzer until Budweiser launches their own seltzer product Now that consumers find themselves back in restaurants they may not rely so heavily on any canned beverage option hard seltzer or spirit based Covid restrictions led to more of a one stop shopping trend whereas now people are more open to going to the liquor store for drink ingredients and then to the supermarket for supplemental ingredients It s difficult to know how these beverages will fare as consumers find themselves in stadiums stands social gatherings and restaurants once again We will keep you updated on where these trends take us because they will affect both the on and off premise and what offerings will ultimately lead to the most sales In order to prepare for the future you must consider the past We can help 781 319 9800
Page 10
On Premise Proves Popular Despite Inflation by Michelle Hansford Everyone recognizes that Covid restrictions were not kind to the on premise restrictions and social distancing leading to many closures some temporary and some permanent On premise establishments also lost valuable staff during this time staff that many restaurants and bars have not yet been able to replace with many establishments currently understaffed As if Covid wasn t enough of a battle for the on premise to survive when eating and drinking establishments were finally ready to serve customers at full capacity once again inflation hits and hits some hard as prices of everything from gas to food to building supplies increase presenting a financial dilemma for both the patrons who want to dine and drink out and on premise operators who are facing increased prices on what they need in order to run their businesses However despite inflation affecting both customers and operators on premise sales in the U S are up since 2021 According to a September CGA report Most consumers are still enthusiastic about going out and spending money on social occasions states the report Perhaps in this way Covid was both a blessing and a curse because although it caused a period of retreat from the on premise consumers are paying less attention to how inflation is affecting their wallets because they are so eager to get back to socializing and normalcy And now that consumers are back out and about operators need to capitalize on their enthusiasm with new menu offerings and ensuring that the staff members they do have are well trained and ready to help boost sales According to the CGA data 42 of consumers state that they try new drinks in the on premise demonstrating a clear opportunity for brands and drinks suppliers to consider their marketing activities and NPD strategies to target On Premise visitors in order to boost Off Premise sales With this information in mind now might be a great time to sell your on premise liquor license to take advantage of the current market If you have questions or if selling your liquor license seems like the right next move for you give us a call We will take good care of you THE ADVISOR MAGAZINE 10
Page 11
THE ADVISOR MAGAZINE  | 11QUESTIONS ABOUT LISTINGS?Call/Text Ben Jerrom Partner & Buyer SpecialistCell: 413.544.4960OUR FEATURED LISTINGSLiquor License is proud to offer, for your consideration, thesale of a package store that holds a full liquor license and issituated on a main thoroughfare in an urban neighborhood.The store has enjoyed increasing sales numbers over the pastfew years, with liquor sales comprising more than half of thetotal sales. The store is being offered with or without real estate and isnestled amongst other retailers, such as a barber shop,restaurant, and laundry facility, making for a lot of foot traffic.This busy downtown retail spot is also close to residentialneighborhoods, resulting in ideal placement. For thosecustomers not on foot, the store also offers on-street parking,as well as parking in the rear of the building. Don't miss youropportunity to operate a thriving store in a busy, up-and-coming, urban neighborhood!Featured Listing:Full Alcohol License - Package Store (Real Estate Option Available)Suffolk County, MA Asking Price: $325,000 (without RE) by Ben JerromContact Ben Jerrom directly for further details on all of our current listings.Wine & Malt Package Store $425,000 Middlesex CountyMiddlesex CountySuffolk County$125,000 Wine & Malt Package Store$1,000,000Call For InformationCall For InformationFull Alcohol Package StoreEssex County$425,000 Asking Price: Location:Listing Type:Full Alcohol Package Store Norfolk County, MA$750,000 Full Alcohol Package StoreFull Alcohol Package StorePlymouth County, MA$525,000Package Store License (WM)Middlesex County$75,000
Page 12
Guaranteed To Maximize Refundable Credits For Local And Small To Medium Sized Businesses So Easy That Your Entire Commitment Is 15 Minutes No Upfront Fees To Get Qualified - 100% Contingent On Your Refund Audit-Proof Documentation For IRS Support No Other CPA Firm Offers The 15 Minute Refund™ Yes, Qualify Me!Companies outside of the liquor license industry are also eligible to apply. Any links contained in this ad are affiliate referral links. Free, No Obligation Pre-Qualification.By answering a few, simple,non-invasive questions ourteam of ERTC experts candetermine if you likely qualifyfor a no-strings-attached taxcredit. There is no cost orobligation to be pre-qualified.Find Out If Your Company Qualifies To Get Up To $26k Per W2 Employee In A Few Simple StepsWhy Choose ERTC Fast Program™? We only specialize in maximizing Employee Retention Tax Credits for small business owners. You won't find us preparing income taxes, compiling financial statements, or providing attestation services of any kind.When you engage us, rest assured that you've hired the best CPA Firm to lock in this one-time opportunity for a large refund check from the IRS. Even If You Received The PPP LoanIf you received either or bothPPP Loans you may still qualifyfrom the ERTC Rebate as well.Many of our clients havealready! No Restrictions - No Repayment.While the ERTC was created inthe CARES act along with thePPP Loans – this is not a loan,there is no repayment. Thereare no restrictions for howrecipients of the credit mustuse the funds.
Page 13
WHAT DO THE NEXT 20 YEARS HOLD If only we had a crystal ball In approximately 1 months time a vote in the Senate will change the liquor store industry in Massachusetts forever The question is by how much Independent liquor store owners are going to see a shift in the industry and they need to be prepared whether it be to grow their existing footprint or exit to take advantage of the market changes Either way you need to be planning now If you have questions on what that will look like for your business we can provide detailed recommendations for your personal situation We re here for you Questions Give us a call 781 319 9800
Page 14
YOUR TRUSTED INDUSTRY PARTNERDid you know that for over 2 decades, our Founder, Dan Newcomb, hasbeen in the liquor license industry as the "go-to" for other industryprofessionals and leaders? Every phone call that comes into our office is about a liquor license. Wedon't work in any other industry besides liquor stores and licenses.We provide owners with a "firewall" to protect them from all of the pitfallswe know are out there throughout a transaction because we know how toprepare the deal and navigate the waters. We're here for you.Meet Our TeamDan NewcombCEO & FounderBen JerromBuyer SpecialistJennifer MedicoTransaction SpecialistGlenn LawlerSeller SpecialistMichelle HansfordSeller ConciergeSherri BeauchampMarketing SpecialistQuestions?Call 781.319.9800 orvisit: LiquorLicenseAdvisor.comKate NewcombProject Specialist
Page 15
References:© Liquor License Advisor 2022, All Rights Reserved Unless Otherwise NotedSpecial Contributions & Acknowledgements:- Features Editor & Editorial Assistant: Michelle Hansford & Kate Newcomb;- Magazine & Digital Editor: Sherri Beauchamp.THE ADVISOR MAGAZINE  | 15Why Vote "YES" On Question #3 (Page 4-5)1 - Yes on 3 - Safe and Convenient Expansion of Alcohol Sales (https://www.masspack.org/Ballot-Initiative)2 - https://www.yeson3mass.com/Fall Clean-Up: "Nipping" Litter In The Bud (Page 6)1 – Mini Spirits Bottles Are On The Chopping Block In Massachusetts And Rhode Island, Sept. 13, 2022 (https://www.marketwatchmag.com/mini-spirits-bottles-are-on-the-chopping-block-in-massachusetts-and-rhode-island/) Fall Drink Choices: Non-Alcoholic and Less ABV Beverages are Coming into Play (Page 8-9)1 – Hard Seltzer Looks For A Rebound, August 18, 2022 (https://www.marketwatchmag.com/hard-seltzer-looks-for-a- rebound/) On Premise Proves Popular, Despite Inflation (Page 9)1 – Could Massachusetts Bring Back Happy Hour? by Rachel Leah Blumenthal, Eater Boston dated July 25, 2022. (https://boston.eater.com/2022/7/25/23277127/massachusetts-happy-hour-senate-repeal-ban-july-2022) 2 – Buzzless boom, August 29, 2022 (https://www.marketwatchmag.com/buzzless-boom/ Employee Retention Tax Credit Program (Page 12)1 – Provided in partnership with ERTC Program, any link provided is an affiliate link and Liquor License Advisor will be compensated should you choose to participate in the program.
Page 16
THE ADVISOR MAGAZINE BY LIQUOR LICENSE ADVISOR The Advisor Magazine runs on a monthly basis to keep stakeholders in the liquor store liquor license industry in the loop November 2022 Come back for Issue 21 which will reveal the current state of the industry how holiday trends are shaping up and more Liquor License Advisor 10 Post Office Square Suite 800 South Boston MA 02109 781 319 9800