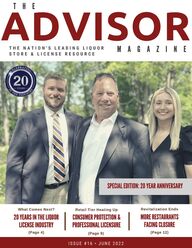 Return to flip book view
The Advisor Magazine - Issue 16
Page 1
ADVISOR TT HH EE T TH H EE N NA AT T II O ON N S S LL EE A AD D II N NG G LL II Q QU UO OR R S T O R E L I C E N S E R E S O U R C E STORE LICENSE RESOURCE M A G A Z I N SPECIAL SPECIAL EDITION EDITION 20 20 YEAR YEAR ANNIVERSARY ANNIVERSARY What Comes Next Retail Tier Heating Up Revitalization Ends 20 YEARS IN THE LIQUOR CONSUMER PROTECTION MORE RESTAURANTS LICENSE INDUSTRY PROFESSIONAL LICENSURE FACING CLOSURE Page 4 Page 9 Page 12 ISSUE 16 JUNE 2022 E
Page 2
CEO s Note Just when I think I ve seen it all things will be changing again No one fully knows how it will impact the liquor industry yet Looking For Featured Liquor Store Listings CLICK HERE Page 4 What Comes Next 20 Years In The Liquor License Industry We have seen a thing or two but never anything like this Legislation for the 21st Century Alcohol Reform is roughly 6 months away and some owners don t fully understand the impact this ruling will have Those that do are preparing now for what s to come either way Summer has also brought new life to restaurants and new trends are popping up Page 9 Retail Tier Heating Up Consumer Protection Professional Licensure Page 12 Revitalization Ends More Restaurants Facing Closure We want to say thank you for being a part of our journey over the past 20 years however we ve come to know each other We can t wait to see what the next 20 hold Sincerely DAN NEWCOMB Founder CEO Liquor License Advisor THE ADVISOR MAGAZINE 2 www LiquorLicenseAdvisor com Liquor License Advisor has been a trusted resource in the liquor store and license industry since 2002
Page 3
THINGS TO CONSIDER Summer Brings The Heat Trends coming into Summer confirm consumers are ready to spend their money again by Dan Newcomb WHAT S HOT IN ALCOHOL TRENDS As things heat up consumers are looking to quench their thirst in different ways It s been well documented that the exponential growth of non alcoholic beverages in GenZ and Millenials continues to climb as they are primarily interested in a healthier drink option What may be surprising is that men are leading women with this new lifestyle choice Ready to go cocktails continue their popularity with an old classic gaining ground Tequila beverages both in the bottle and in the can pre mixed captured the top spot for consumers who are interested in trying something new ahead of hard iced teas and hard kombucha According to Drizzly 90 of their retailers now carry at least one non alcoholic option Other trends popping up are Just Because alcohol gifts A nice bottle of wine or liquor is not just for special occasions anymore as people are willing to dig into their pocket a little more to show some appreciation For retailers this type of campaign could be very fruitful to leverage this Summer Of course a premium bottle is still a go to for many birthdays milestones and holidays Summer usually means holidays as most will take a break from the office or work to catch some rays Nearly half 49 of people surveyed by Drizzly responded they would forego their usual beverage of choice for drinks that match the vibe of their vacay while nearly 1 3 were interested in trying local flavors over their typical go to For both restaurants and retailers having options that cover these bases will result in larger bills at checkout Changes are coming to the liquor industry are you prepared If you need support or want to know where you stand in today s market give us a call today 781 319 9800 THE ADVISOR MAGAZINE 3
Page 4
by Dan Newcombwww.LiquorLicenseAdvisor.comTHE ADVISOR MAGAZINE  | 4Dan Newcomb is Founder & CEO ofLiquor License Advisor & has been in theindustry for more than 20 years.20 Years In The Liquor License Industry
Page 5
Twenty years is a long time toreflect back on and recall someincredible stories!Some of the main characterswho influenced my career pathinclude: Howard DeeringJohnson, Donnie Wahlberg,Charlie Perkins, and of course,Dick Newcomb, my Father andoriginal creator/owner of theMug 'n Muffin restaurants.Our original family restaurantbusiness started in 1965 inWollaston, Massachusetts, thebirthplace of one of America'sbest known restaurant chains,Howard Johnson's (HoJo's). MyDad's new restaurant, named Mug 'n Muffin, was opened inJuly 1965, only 1.5 years after Iwas born, so I was essentiallyborn into the family business.Even as a young kid, I wasinvolved as my Dad grew hisbusiness, which had evolved to26 restaurants by the early1980's.I grew up flipping eggs andburgers at my family's restaurant,and before I was old enough todo that, I watched guys likeBobby Orr and other decoratedBoston Bruins stop in for coffee,as one of the main restaurantswas conveniently located acrossfrom the old Garden. Over theyears, I watched my Dadnegotiate with vendors and landlords and I now realize that Iwas getting a front-row seat to areal-life masterclass in influencebefore I was old enough to drive. Iknew I wanted to be a restaurantowner and run my Dad's business.After I graduated college in 1986,we re-developed the concept,worked hard, and I was able togrow from two to four restaurantsthat I managed for the family. Alot of work and stress brought alifestyle I didn't want to maintainas my own family grew.Ironically, my Dad's restaurantwas a regular host to AA groups,and I've been sober since March28, 1988. THE ADVISOR MAGAZINE  | 5
Page 6
For a guy who has since made aliving in the alcohol industry, thisirony has not been lost on me.This transition in life brought meto a new adventure: DonnieWahlberg was also a regularcustomer at my Dad's restaurant,and he expressed interest in therestaurant business. Afterestablishing a businessrelationship with Donnie, the twoof us bought a Howard Johnsonrestaurant together in Canton,MA.Donnie's brothers, Paul and Alma(of Wahlburger's fame), workedwith us to build a new conceptand to grow our brand. For twoyears, we worked to create a newconcept that we planned tolaunch at the Canton location.His fans travelled across thecountry to work at his restaurant,hoping to rub elbows with him orhave the chance to meet him.Being partners with a celebritywas exciting and fun, but it cameto an end when Donnie decidedhe didn't want to play in therestaurant business anymore andsold the restaurant, leaving mescrambling for a job to feed myyoung family.His financial team hired CharliePerkins to market and sell therestaurant, and I was asked towork with Charlie Perkins toassist him in divesting thebusiness.For weeks, I worked alongsideCharlie, providing information toprospective buyers about thebenefits of the restaurant andlocation. Buyer after buyer wouldlook to Charlie and then to me foreven more information.Eventually, the buyers would walkaround Charlie and come directlyto me for guidance – this is whenthe trajectory of my careerchanged forever. Charlie asked if I was interestedin having him as a mentor. Thebuyers we worked with had alevel of comfort and trust withme, as I had learned early-on from watching my Dad thatrelationships are the currency ofbusiness.I had a conversation with my Dadabout the new possibilities in mycareer and the prospect of nothaving to regularly work eveningsand weekends, as I had in the pastworking in the restaurant industry.In some ways it was a major risk,as I still had a growing family andwould be fully commission basedto start.However, my Dad believed in meand my ability so much that myfirst deal as a restaurant brokerwas one of our family restaurantsin Plymouth, MA in June of 2002 –twenty years ago. THE ADVISOR MAGAZINE  | 6
Page 7
Over the next few years, alongwith the guidance of my mentors,I developed the company into thelargest restaurant broker inMassachusetts, the AtlanticRestaurant Group.Fast forward to 2009-2010 duringthe economic downturn:restaurants and bars wereclosing, forcing banks toforeclose on their liquor licenses.The banks started calling us tosell off the licenses that wereused as collateral on loans madeto restaurants.With all the relationships we hadestablished with lawyers, buyers,and sellers during that time, itwas a natural next step for us tofocus solely on liquor licenses. In2011, Atlantic License Brokerswas started, and in 2019, itbecame Liquor License Advisor.We then also recognized anotherline of business and beganspecializing as the "Nation'sLeading Expert on Liquor Stores."When I think back to when it allstarted, I had a very young familyat home, and I was highlymotivated to do the best possiblejob to provide for my family. Imoved from working in our Family business with my Father,to owning my own restaurant, tohaving to sell it. During thistransition I realized that the mostcomplicated and rewarding partof a restaurant broker businesswas the liquor license involved.I had truly discovered my passionin helping make this process assmooth as possible, creating win-win-win scenarios for all partiesinvolved.However, this transition didn'tcome without its stumblingblocks. Like entrepreneurs whocame before me, I took somelumps and tried not to repeatthem. I've had many greatmentors and advisors over thepast 20 years, both inside and outof the liquor license industry. In the beginning, I focused on asmall supporting cast of one or twoother employees and me. I'vecontinuously operated mycompanies as a small familybusiness, regardless of whetherthey were blood or not becausethat's all I knew. This approach has worked to myadvantage, as my team now enjoysthe environment and support thatcomes along with being a part ofsomething special. And that mutualrespect and caring get passed onto our clients and industry partners.More recently, I've had the privilegeof working with Ben Jerrom, myson-in-law, who is basically the sonI never had. As a Father of 3beautiful daughters whom I lovedearly, I welcomed all that Benbrought to our family.THE ADVISOR MAGAZINE  | 7
Page 8
WHAT COMES NEXT CON T Ben came from a high profile law office in NYC He s intelligent welleducated and incredibly street smart He s the type of guy who can find his way through whatever situation presents itself and come out on the other side with new friends and experiences that will benefit him for the rest of his life In some ways he reminds me of a young Dan Newcomb Ben understands what makes him an incredible Buyer Specialist and Partner within our company He s a natural leader and has influenced our overall company progress in the most positive way Our small team has grown to seven over the past year and a half to support our growth and success in the liquor store and liquor license industry I can confidently say that no other broker puts the expertise attention and detail into a transaction as our team does I know because I ve seen a thing or two in my time The next evolution of the business is sure to have more adventure as we continue to adapt and support our clients in the best way we know how through client centric transactions One of the greatest accomplishments of my career is now most recently getting to introduce my daughter as a part of our team I know I m in a place in my career where I m not done yet and whatever happens next the future looks incredibly bright I ve seen many changes in this industry over the past 20 years With the looming ballot question s liquor store owners are coming to a crossroads Many independent owners need to prepare now and position their store s for success in the next chapter The best is yet to come THE ADVISOR MAGAZINE 8 I know I m in a place in my career where I m not done yet and whatever happens next the future looks incredibly bright Dan Newcomb
Page 9
Retail Tier Is Heating Up Summary On Consumer Protection Professional Licensure Virtual Hearing March 14 2022 On March 14 2022 the Joint Committee on Consumer Protection Professional Licensure held a virtual hearing via Facebook Live to discuss the 21st Century Alcohol Retail Reform Ballot Initiative The hearing was presided by Massachusetts Democratic Representative Tackey Chan and several testifiers participated including Co Chair of the hearing Senator Susan Moran a Democratic Representative for Plymouth Barnstable counties Representative David LeBoeuf a Democratic Representative for Worcester county Rob Mellion Executive Director of the Massachusetts Package Store Association Ryan Maloney Owner of Pro Wine Inc DBA Julio s Liquors Lou Cassis President of Wine Spirits Wholesalers of Massachusetts THE ADVISOR MAGAZINE 9 Tina Messina Owner of Wine ConneXtion in North Andover Ryan Kearney General Counsel Massachusetts Retailers Association and Ed Cooper VP Public Affairs Community Relations Total Wine The ballot initiative decreases the number of full liquor licenses to seven while progressively increasing the number of beer and wine licenses to eighteen minus any full liquor licenses owned by the corporation or individual Representative Chan opened the discussion by asking for Mr Mellion s overview of the ballot initiative Mr Mellion provided listeners with a comprehensive summary of the ballot initiative and the reasoning behind it explaining that Massachusetts is the only three tier state that allows an individual or corporation to hold nine full liquor licenses and that we never should have made the increase to nine Mr Mellion reasoned that the survival of main street retail is at stake and Mr Maloney agreed stating that anyone against this ballot initiative isn t in favor of local retail Ms Messina explained that although large corporations are coming in trying to take out the smaller businesses her business is thriving but that it has been stressful to survive both big box stores and during Covid Continued
Page 10
JOINT COMMITTEE SUMMARY Senator Moran asked what the best argument is for people who enjoy the convenience of one stop shopping Mr Mellion responded by explaining that local retailers are not trying to block these bigger stores from their business and that the ballot initiative is about fair play Mr Mellion also noted his belief that Massachusetts is becoming a chain store state as a result of the increase in licenses that is happening The big corporations don t like the current rules and are now trying to change them according to Mr Maloney He would like to continue following Massachusetts regulations that have worked well here Mr Kearney spoke in opposition to the ballot initiative specifically against the reduction of all alcoholic licenses being reduced from nine to seven This proposal will take the market back years according to Mr Kearney and he stated that it s a blatant attempt to stifle competition He thinks there s a reasonable middle ground somewhere that the MA Retailers Association would like to explore Mr Cooper stated that although he would like to expand the number of caps and stands with the Retailers Association of Massachusetts he doesn t think this is the correct way to approach it The testifiers also discussed the two other major components of the ballot initiative the ban on self checkout for alcohol as well as the fine for selling to minors being applicable to gross sales rather than just alcoholic beverage sales Post Hearing Updates A lot has happened since the March hearing In a significant recent development the Massachusetts Package Store Association has begun a second signature campaign for the ballot initiative According to a May 23 Market Watch article entitled Power Struggle Over Massachusetts Retail Tier Intensifies the MPSA now has until midJune to receive another 13 300 signatures from people who didn t originally sign the initial signature campaign The number of bills that could impact beverage alcohol retail in Massachusetts has increased over the past few years and Mr Mellion commented on the increase stating in that article that This session has become an unashamed free for all by large corporate interests to gain marketplace control of alcohol beverages retail through the legislature and the courts Mellion also stated that Everyone is trying to take a piece of local retail and our membership is fighting like their livelihood depends on it because it does The opposition to the ballot initiative has not lessened according to Mellion In a May 26 conversation with Liquor License Advisor Client Concierge Michelle Hansford Mellion discussed the many updates surrounding the ballot initiative and the MPSA s commitment to ensuring that it appears on the November ballot Continued
Page 11
JOINT COMMITTEE SUMMARY CONTINUED The initiative has been well received by voters because it presents reasonable expansion as well as reasonable and safe barriers like banning the self checkout of alcohol He explained that although food stores are playing hardball retailers can too and if the opposition isn t willing to compromise retailers will fight for their survival Mellion explained that We play by the rules while the other groups are trying to change the rules and that the tactic won t work here in Massachusetts where educated informed voters are paying attention The time has passed for standing down and the MPSA has no choice but to go on the offensive now as they try to maintain what Mellion referred to as a stable and balanced marketplace that benefits everyone The MPSA is an association that is very connected with its membership and the membership is an active not passive one The individuals who own these stores are informed and engaged which is why retail will be successful and why they re fighting back Independent retail isn t going anywhere says Mellion While discussing the second signature campaign Mellion explained that it went better and faster than they thought it would We knew we d get the signatures said Mellion But we didn t realize we d get them so quickly The success of this second campaign speaks to the support behind the MPSA s mission and that it s not looking like the end of retail like it was a year ago Massachusetts retailers aren t giving in without a fight and if the success of the second signature campaign is any indication they have a lot of people fighting alongside them The other participants were contacted but did not provide further comment at the time of publishing this article With about just six months before the November election it will be interesting to watch the developments surrounding this ballot initiative unfold THE ADVISOR MAGAZINE 11
Page 12
RESTAURANTS FACING CLOSUREA sobering May 19 article fromthe Independent RestaurantCoalition claims that at least 50%of restaurants could close afterthe senate does not pass fundingfor struggling restaurants.Sponsored by Senator RogerWicker and Senator Ben Cardin,The Small Business COVID ReliefAct hoped to replenish theRestaurant Revitalization Fund(RRF), which 90 senators votedto create last February, with $40billion. However, in a 52 to 43 vote, thefunding did not pass.According to Erika Polmar,Executive Director of theIndependent RestaurantCoalition, more than half of the177,300 restaurants waiting forthis grant will close within thenext few months. "Localrestaurants expected help and theSenate couldn't finish the job",according to Polmar.The report states that at least90,000 restaurants and bars haveclosed since the beginning of thepandemic, which is when theIndependent Restaurant Coalitionoriginated. In 2021 alone, nearly300,000 restaurants applied forthe Restaurant RevitalizationFund grants, but nearly 200,000didn't receive the funding.Here are some interestingstatistics from the article: - 42% of businesses that did notreceive RRF grants are in dangerof filing for or have filed forbankruptcy, compared to just20% that received RRF grants. - 28% of businesses that did notreceive RRF grants have receivedor are anticipating receiving aneviction notice compared to just10% that received RRF grants.- Restaurant and bar owners whodid not receive an RRF grant aretaking on more personal debt.41% of people that did notreceive RRF reported taking outnew personal loans to supporttheir businesses since Februaryof 2020. This is only true for 19%of businesses that received anRRF grant.THE ADVISOR MAGAZINE  | 12BY MICHELLE HANSFO RD
Page 13
- 46% of businesses reported that their operating hours wereimpacted for more than 10 days in December 2021. - 58% of businesses reported that their sales decreased bymore than half in December 2021.If you are a restaurant or bar owner who is looking to sellyour liquor license because of the current difficult climate inthis industry, give us a call. We have qualified buyers waitingand are here for you.THE ADVISOR MAGAZINE  | 13ABOUT THE IRC:The Independent Restaurant Coalition was formed by chefsand independent restaurant owners across the country whohave built a grassroots movement to secure vitalprotections for the nation's 500,000 independentrestaurants and the more than 11 million restaurant and barworkers impacted by the coronavirus pandemic.
Page 14
THE ADVISOR MAGAZINE  | 14QUESTIONS ABOUT LISTINGS?Call/Text Ben Jerrom Partner & Buyer SpecialistCell: 413.544.4960Liquor License Advisor offers, for your consideration,the sale of a full alcohol liquor store on a busythoroughfare in a northern suburb of Boston. Thestore is a free-standing building that offers plenty ofretail space, as well as storage space on the secondfloor. Offering a variety of spirits, wine, and beer, thisstore has enjoyed high sales numbers in recent years,and has implemented conveniences like Drizzlyservice to accommodate its customers. A largeparking lot allows easy access to this store. If you arelooking to own a busy store in an urban neighborhood,don't miss this opportunity to capitalize on thisestablished business!Featured Listing: Middlesex County - Full Alcohol Package Store Asking Price: $1,000,000 by Ben JerromContact Ben Jerrom directly for further details on all of our current listings.Full Alcohol Package StoreFull Alcohol Package Store $750,000 Plymouth County, MAPlymouth County, MA Norfolk County$550,000 Full Alcohol Package Store$550,000Package Store License - Wine & Malt Somerville, MA$159,000 Asking Price: Location:Listing Type:Package Store License - Wine & MaltWestborough, MA$85,000Type 44 Plenary Retail Distribution License Teaneck, NJ$180,000
Page 15
WHAT DO THE NEXT 20 YEARS HOLD If only we had a crystal ball In approximately 6 months time a vote in the Senate will change the liquor store industry in Massachusetts forever The question is by how much Independent liquor store owners are going to see a shift in the industry and they need to be prepared whether it be to grow their existing footprint or exit to take advantage of the market changes Either way you need to be planning now If you have questions on what that will look like for your business we can provide detailed recommendations for your personal situation We re here for you Questions Give us a call 781 319 9800
Page 16
Did you know that for over 2 decades, our Founder, Dan Newcomb, hasbeen in the liquor license industry as the "go-to" for other industryprofessionals and leaders? Every phone call that comes into our office is about a liquor license. Wedon't work in any other industry besides liquor stores and licenses.We provide owners with a "firewall" to protect them from all of the pitfallswe know are out there throughout a transaction because we know how toprepare the deal and navigate the waters. We're here for you.Dan NewcombCEO & FounderBen JerromBuyer SpecialistJennifer MedicoTransaction SpecialistGlenn LawlerSeller SpecialistMichelle HansfordSeller ConciergeSherri BeauchampMarketing SpecialistKate NewcombProject Specialist
Page 17
© Liquor License Advisor 2022, All Rights Reserved Unless Otherwise NotedSpecial Contributions & Acknowledgements:- Features Editor & Editorial Assistant: Michelle Hansford;- Magazine & Digital Editor: Sherri Beauchamp.THE ADVISOR MAGAZINE  | 17Retail Tier Is Heating Up - Joint Committee Summary (Page 9)1 - Virtual Hearing: Joint Committee On Consumer Protection & Professional Licensure on March 14, 2022 (https://malegislature.gov/Events/Hearings/Detail/4228)2 - Power Struggle Over Massachusetts Retail Tier Intensifies - Market Watch, May 23, 2022 (https://www.marketwatchmag.com/power-struggle-over-massachusetts-retail-tier-intensifies/) Revitalization Ends: More Restaurants Facing Closure (Page 12)1 – Press Release by Independent Restaurant Coalition by Jeff Solnet, May 19, 2022 (https://www.saverestaurants.com/news-item/may-19-senate-fails-to-pass-funding-for-rrf/)
Page 18
The Advisor Magazine runs on a monthly basis to keep stakeholders in theliquor store & liquor license industry in the loop.Liquor License AdvisorSuite 1, 2036 Ocean Street Marshfield, MA 02050 781.319.9800www.LiquorLicenseAdvisor.comCome back for Issue #17 which will reveal the currentstate of the industry, how trends are starting into Summer, and more.